Formula Factory™ and Formula Factory 10™ Cars, (tehreafter FF10™ Cars) are not endorsed, approved, licensed, associated or connected with F1; Formula 1; Formula One; FIA Formula One World Championship; not official Formula 1 Simulators; not official Formula 1 Show cars; F1 Show Cars and not official F1 Car or Formula 1 Car Replicas For Sale.
Important note: We'd like to Emphasize that Formula Factory™ and FF10™ cars has no legal conflict with Formula One Ltd. Our cars are our own products made and designed in 100% by our own company. FF10™ cars are NOT counterfeits and NOT illegal products. FF10 Cars™ are generic Open Wheel Race Car Displays for Simulator or Display Use and recently where used by several professional race car drivers, teams, sponsors also by private collectors and vendors.

With customers from Europe, Middle East to South America and USA the Formula Factory™ Team helped to take the success by storm. Our team investigates the latest technologies and provides solutions on what will shape most effectively your projects.
Control and balance makes a beautiful experience. Just a great painting is more than canvas and paints, there are some things that go beyond the sum of their parts. The FF10™ Show Car™ is such an object. The Formula Factory™'s goal is to afford the ultimate driving experience. In precision, in engineering, in comfort. You don't sail a boat just to get across the water. The fun is the doing. The pleasure of motion under control. FF10™ Show Car™ owners understand that. All of our FF10™ cars for sale are Computer Designed, Robot milled products and made out of high quality materials by the best engineers of the industry for ultimate precision. Do not let foo you by bottomline suppliers who maybe create you a car looking sculpture with imprecision, fragile or too heavy materials. In a beautiful car you can play various driving F1™ simulator games whether it's a motion Formula Factory 10™ simulator or a static car. With an authentic racing cockpit design and a steering mounted shift that give you a beautiful feeling the instant you're inside. This car has come amazingly close to that goal; each year, with subtle improvements, a bit more. First, consider its superbly thought-out features. It has a true motion FF10™ simulator and stunning bodywork. And the design has been steadily improved upon for 15 years. All controls are meticulously engineered to be functional and logically accessible. Yet it is the total effect of these innovations that impress. With the cushioned luxurious bucket seats, you ride in "Belle Epoque" comfort. But the grandest feature of the FF10™ Sow Car™ is the experience of driving it.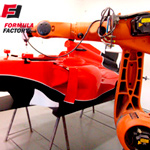 The handle is quick, correct, precise because of Formula Factory™'s legendary engineering. Putting the driver and car in perfect collaboration. It is almost you just "think" wherever you want the racecar to go. You can go for racing in Monaco, Australia, Italy, Spain, USA and dozen of other famous racetracks in a blink of an eye. But be warned. It is very difficult to be humble about owning an FF10™ Sow Car™. And if is it's a motion Formula Factory 10™ simulator, that's it.
How can you make money with an FF10™ Simulator Showcar™
• You can rent it for events for US$ 1500 / day. If you organize a promotion for a company you easily can make US$ 20,000 with a two week campaign. We made it, and we know it works and it is not a ferry tale…
• You can rent the car for private parties: birthdays, bachelor parties, weddings just to mention a few… Yes US$ 1500 / day only for the car and you can make more money with additional services (on host, hostess, merchandise etc)…
• You can rent the car for corporate events: trade shows, team buildings… Yes another way to make US$ 1500 / day.
• Rent it for shooting commercials… Aha… you can make even more money on it.
• Rent the car for taking photos. The customers pay per photo… You frame it and sell it… Have you been to Disney? They do it every day…
• You can use the car for Pay Per/Ride service. The Pay Per/Ride fee is based on your location; you can ask easily US$ 10/qualification (3 laps single rider) or US$ 100 or more per racing event (20 laps racing with other drivers). You need to schedule the crowd and the business precisely, this is not a cheap ringlispíl. It is a unique machine that Formula Factory 10™ drivers use for preparation before races. You can make a contest among the drivers as well. The drivers will return each week, even each day to win the contest. The winner of your contest can earn a racing ticket, a complete trip to a racing even a racing driver school.
• You also can sell the advertising surface of the car for a sponsor. You easily can get US$ 20,000 / year from a sponsor. The sponsor can advertise their brand as main sponsor of your driver contest. We did it, it works for sure…
• You can put your car into your showroom. It will improve your image among your partners, friends, and girlfriends...
• It can improve your social life. You can make driving contest with your friends and business partners… You can invite your VIP's to your place. It will be a lot easier relationship afterwards…
• This car will improve your store traffic. If you are a store owner or a restaurant owner then you can sell racing merchandises also and plenty of your guest will go to your store just see the car. It will skyrocket your place's traffic..
• You can save a lot on our FF10™ Sow Car™. Do you know how much it cost to buy a real racing car? Up to One Million $ even more… Our car cost just the fraction of it…
• Do you want to be a racing driver once? We have good news for you. All of the Formula 1™, Nascar, GT, Rally and Touring Car Drivers make driving practices on simulators. You can read many success stories about novice drivers who made fantastic debuts after they learned the car and the track on FF10™ replica. All professional Formula 1™ drivers are practicing on Motion F1™ Simulators. The Motion FF10™ replica is the best in the market, capable for professional driver trainings. You can save a lot on your tests if you learn the racetrack on a FF10™ Simulator car and keep your mind trained for the racecar driving. We know it works 100% sure…
• If you are a racing driver, your sponsors need a display car for their events and you need a car for your training… What else can we say…
• You can use your car for several years without any modification. After a few years you can repaint it and use with a different outfit.
• You also can resell the car on a higher price for your customer...
• Our prices are the best in this industry and you can make money on your car in several ways. Only the sky is the limit…
Please Check Out the references of Our Business and World Class FF10™ Show Cars
We sold cars to Formula 1™ drivers (yes, drivers from Formula 1™) who where satisfied with the quality of our FF10™ replica cars, pit stop cars, motion FF10™ simulator cars and display cars. We sold cars to Rally World Championship contenders as well. We sold cars for private collectors and other racing enthusiasts. We sold cars for go-kart tracks, restaurants and other stores. We sold complete promotion campaigns for famous brands and the winner of their campaign won a Formula Factory 10™ car driving experience… Yes, all above is true and correct. Please check out our FF10™ cars for sale gallery images.
Our car replicates the latest race cars, with all the appropriate control devices and the best virtual racing simulation software. You or your customers can race against computer generated competitors in a full size racing car. The racers can set up suspension, gear ratios and wings, calculate fuel loads. Deal with variable weather conditions. You also can order our cars without simulation devices for only show car purposes. We adjust the ywings according to your design needs and deliver the car just in time with professionalism. If you need a reliable partner with unbeatable price-quality combination we are there for you.
All of the FF10™ simulator equipments are products of World Leader manufacturers, extremely reliable and easy to upgrade. You can use our cars with superb spare part support worldwide.
Car without brands: If you need a beautiful car for your campaigns but you are not sponsor of any famous racing team you still can organize extremely successful promotions with an unbranded display car. You can use your own colors and brands on your own virtual race car. Please check out our gallery about a red racing car.
We deliver Worldwide with professionalism: we package your car and ship it to your destination. You do not have to worry about transportation, seat back relax and we organize the delivery door to door.
Disclosure: Formula Factory™ and Formula Factory 10™ Cars, (tehreafter FF10™ Cars) are not endorsed, approved, licensed, associated or connected with F1; Formula 1; Formula One; FIA Formula One World Championship; not official Formula 1 Simulators; not official Formula 1 Show cars; F1 Show Cars and not official F1 Car or Formula 1 Car Replicas For Sale. FF10 Cars™ are generic Open Wheel Race Car Displays for Simulator or Display Use. Any potential mention on the website to other brand names and/or products is made for comparison, educational or novelty purposes only. The Product is not being sold as real racing car, there is no relationship to any brands, trade marks, racing series, racing teams and/or companies. The Product can be used as display for entertainment or educational and novelty purposes only.
Paintings of our blank Products are tailor-made according to our customers' order. The Formula Factory™ Team (hereafter Company) does not supply or offering for use any labels, brands or trademarks on the Product. However the Company has absolutely no control, and takes absolutely no responsibility what the Buyer says about or does with the Product after it leaves Company's premises. Buyer's responsibility to use and study (prior order) Product's electronic devices, Formula Factory 10™ Simulator, software, pit stop challenge equipments according to its third party manufacturers' instructions and licensing rights.
You the Registrant would like to receive periodic offers, updates from owner of this Website and Formula Factory™ Club Offers. The Registrant will be able to unsubscribe at any time, the Owners never disclose your email address to any third party.
By viewing this page and any other page linked to this web-site direction or indirectly, you agree to such terms. You must be over 18 years of age to visit this website. The entire FormulaFactory.com website has been published to be viewed in countries where references to tobacco products are still legal. If you do not meet with these requirements you are not authorized to access this website, any of its pages and files, and you must leave this website!
By accessing this site's services and information, you hereby accept the foregoing limitations of the service and release and hold Company, it's officers, assigns, and affiliates, completely harmless from any and all liability. You agree that all services provided herein are on an "as is" basis. Company expressly disclaims any and all warranties, whether express, oral, implied, statutory or otherwise, of any kind to the users and/or any third party, including any implied warranties of accuracy, timeliness, completeness, merchantability and fitness for a particular purpose. Company does not represent nor warrant that the services nor information provided herein will meet your requirements or is suitable for your needs.