Affiliate Signup
Join our Affiliate Program for FREE and we'll give you all tools you need to:
Generate HUGE monthly commission checks of up to $2,100 - $6,700*+
Profit immediately and with zero risk! There's never any cost to you.
You can be an FormulaFactory™ Affiliate, and you can promote our products Online just by sending visitors to our web site! No Special Skill Needed: Use Your Social Networking Skills and keep posting on Facebook, Instagram, Twitter, Pinterest, Linkedin, WhatsApp, Viber etc… the sky is the limit…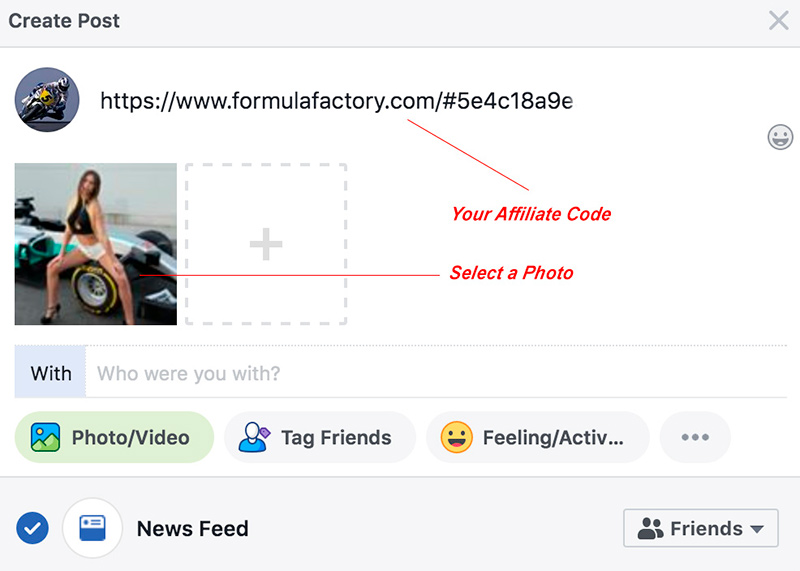 Eliminate the hassles of product development, ad writing, order processing, shipping, and customer service. We do all that. All you do is drive customers to us!
Never spend a dime to develop, produce, or warehouse products. We've invested years, hundreds of thousands of dollars, to produce cutting edge products!
We pay you 8% of our net profits and we have highly priced items listed in our web store beginning from US$ 26,900 to US$ 42,000 and our customers often buy more than one car.
Reseller opportunity: You can make much more money if you act as our reseller! It is very simple, we give you 8% discount from our sales prices and you can create your own margin and resell our products on any higher price! For example you get a US$ 26,900 FF10™Showcar from us for US$ 24,748 and you can resell it for US$40,000. Then you make US$15,252 (or even more) instead of 8% regular Affiliate commission. (If you are acting as a reseller you are responsible for your customer relations and payments, we are invisibly acting in the background as your subcontractor.)
CLICK HERE TO SIGNUP NOW, IT'S FREE!
We have a HUGE stake in your success. The more sales you make, the more money we both make… and the more loyal you'll become. That's why we've gone to great lengths (and expense) to develop ultra-motivating ads and sales letters.
Seven reasons you'll make money fast:
1. You can earn big commissions, because we have highly priced products.

2. You can profit wildly from potential Affiliate competitors. That's right: Instead of competing against others selling the same products, you can recruit them first as your sub-affiliates and then earn "override" commissions on their efforts -- thanks to our "two tier" structure you get 2% commission after your sub affiliates.

3. Use Your Social Networking Skills and keep posting on Facebook, Instagram, Twitter, Pinterest, Linkedin, WhatsApp, Viber etc… the sky is the limit… For your posts you'll get proven ads that we've field-tested to generate very high numbers of click-throughs.

If you own an email list of newsletter subscribers or other people who have opted in to receive email offers from you, send them an email telling them about our website, and feel free to use some text from our homepage in your email. Include your affiliate link at the end of the email. You can even use our email samples. *NOTE - We do not tolerate spamming in any way.
Pay-Per-Click (PPC) advertising: Using a PPC account from Google Adwords, Facebook, Instagram and many others, you can easily generate income with the our affiliate program. Include your affiliate link at the Google Adwords Banner!
Video advertising: Post a Short Video about our products and upload it to Youtube and other Video Sharing Websites. Include your affiliate link next to the Video!
Your Own Website: If you have own website Put Our Banners or Product Images on your website with your Affiliate URL and link to Us!

4. You'll get commissioned on procrastinators! If you send us a visitor who doesn't buy right away -- but comes back to our site and buys within 1 year -- you're still fully commissioned! (They don't even need to go through your site the second time.)

5. We have full-time employees who are 100% dedicated to supporting our affiliates -- they're your "Affiliate Support Team" and they're here every business day answer your questions, and recommend the best ways to exploit Your existing Social Media Campaigns or Web site Promotions.

6. You'll be instantly notified every time you make a sale. Whenever your visitors click to our site and buy, or sign up under you as sub-affiliates, we'll let you know. Plus, you can monitor your daily and monthly sales stats, conversion rates, and earnings using our world-class control panel. You can even review your account history (which shows all sales you've made since joining) and see how many sub-affiliates have joined under you! ...

7. To earn these commissions, all you need to do is signup for our FormulaFactory™ Affiliate Program! And best of all, it's free to participate; there's never any cost to you.


CLICK HERE TO SIGNUP NOW, IT'S FREE!
* The testimonials are not intended to represent or guarantee that anyone will achieve the same or similar results. Each individual's success depends on his or her background, dedication, desire, and motivation.
Disclosure: Formula Factory™ and Formula Factory 10™ Cars, (tehreafter FF10™ Cars) are not endorsed, approved, licensed, associated or connected with F1; Formula 1; Formula One; FIA Formula One World Championship; not official Formula 1 Simulators; not official Formula 1 Show cars; F1 Show Cars and not official F1 Car or Formula 1 Car Replicas For Sale. FF10 Cars™ are generic Open Wheel Race Car Displays for Simulator or Display Use. Any potential mention on the website to other brand names and/or products is made for comparison, educational or novelty purposes only. The Product is not being sold as real racing car, there is no relationship to any brands, trade marks, racing series, racing teams and/or companies. The Product can be used as display for entertainment or educational and novelty purposes only.
Paintings of our blank Products are tailor-made according to our customers' order. The Formula Factory™ Team (hereafter Company) does not supply or offering for use any labels, brands or trademarks on the Product. However the Company has absolutely no control, and takes absolutely no responsibility what the Buyer says about or does with the Product after it leaves Company's premises. Buyer's responsibility to use and study (prior order) Product's electronic devices, Formula Factory 10™ Simulator, software, pit stop challenge equipments according to its third party manufacturers' instructions and licensing rights.
You the Registrant would like to receive periodic offers, updates from owner of this Website and Formula Factory™ Club Offers. The Registrant will be able to unsubscribe at any time, the Owners never disclose your email address to any third party.
By viewing this page and any other page linked to this web-site direction or indirectly, you agree to such terms. You must be over 18 years of age to visit this website. The entire FormulaFactory.com website has been published to be viewed in countries where references to tobacco products are still legal. If you do not meet with these requirements you are not authorized to access this website, any of its pages and files, and you must leave this website!
By accessing this site's services and information, you hereby accept the foregoing limitations of the service and release and hold Company, it's officers, assigns, and affiliates, completely harmless from any and all liability. You agree that all services provided herein are on an "as is" basis. Company expressly disclaims any and all warranties, whether express, oral, implied, statutory or otherwise, of any kind to the users and/or any third party, including any implied warranties of accuracy, timeliness, completeness, merchantability and fitness for a particular purpose. Company does not represent nor warrant that the services nor information provided herein will meet your requirements or is suitable for your needs.